Packers and Movers from Bangalore to Hyderabad
Best Packers and Movers from Bangalore to Hyderabad​​
Sri Vinayaka Packers and Movers Bangalore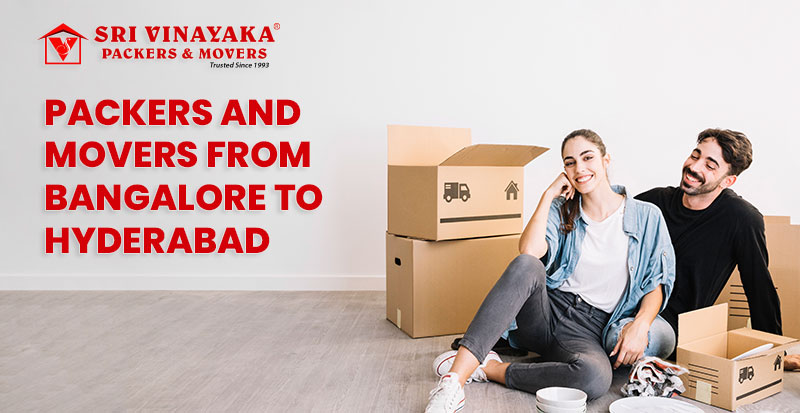 Are you looking to move from Bangalore to Hyderabad? Are you looking for reliable packers and movers from Bangalore to Hyderabad??
You need someone who can move you from Bangalore to Hyderabad quickly and safely while transporting your belongings in a timely manner.
If so, your search ends at srivinayakapackers.com. We can help you arrange your move with professional and reliable packers and movers in Bangalore who will assist with every step of the process, from packing the first item at home in Bangalore to unpacking the last item at your new place in Hyderabad.
Sri Vinayaka Packers & Movers are the best packers and movers of India. We are experts in intercity moving over long and short distances. Professional Packers and Movers from Bangalore to Hyderabad​​ are required with extensive experience in long-distance relocations.
Sri Vinayaka is a professional packer and mover who has been working in this industry for more than 27 years. We have partnered with top-rated, reliable, reputed, and legitimate packers & movers companies in Bangalore who provide efficient and helpful relocation services for home and office shifting from Bangalore and Hyderabad.
Our Expert Relocation Services in Bangalore
Over the years, our exceptional team of professional packers and relocation specialists has served over 16,000 customers. This experience has allowed us to overcome all challenges and create the best moving experience possible for you. We also offer services such as:
Long-distance moving
Local Shifting in Bangalore
Long-distance relocation to all major cities of India.
Cargo
Relocation/Office services.
Services for storage and warehousing
Transport services
Services for vehicle escort during relocation
International shipping
Local Shifting in Major Cities in India.
Insurance Services
We're the finest Packers and Movers from Bangalore to Hyderabad​​ if you care about every detail.
Our team ensures that every customer has the best possible shifting experience. We understand that moving to a new location can be stressful financially and emotionally. Our mission is to make it easy and stress-free for our customers.
We have always exceeded our customers' expectations. Because we do everything possible to make every move as smooth as possible, our customers trust us.
We want you to feel happy when we move your home. Our company has this goal in mind and we will work with you to ensure that your move is a smooth one.
Our packing experts will ensure that your belongings arrive in perfect condition.
This allows you to spend more time with your loved ones than juggling heavy boxes and packing.
We offer door-to-door insurance coverage for your belongings. You will be compensated for any damage or loss, but our goal is for you to never lose or damage your possessions.
Sri Vinayaka is the best movers and packers from Bangalore to Hyderabad. We are efficient, reliable, and cost-effective. Our primary goal is to make our customers happy. This is why we are ranked among the top in the industry.
To ensure your items are safe and organized, professional packing materials and wrapping techniques will be used. It is easy to unpack and arrange your items after a move.
Sri Vinayaka offers storage and warehousing in many major Indian cities. If your move is delayed or canceled, we will keep your belongings safe until you have a plan.
You can be assured that your items will arrive intact after we pack and move them. Our services are affordable, but we don't compromise on quality.
We are a registered business with licenses to provide services such as packing and moving, warehouse, goods transportation, storage facility services, etc.
We are approved by the Indian Bank Association and ensure that all interactions with you are transparent and honest. We are a trusted service provider for Bangalore.
Planning is key to moving homes. It will help you start the next phase of your life and ensure your comfort and ease throughout the process.
Our number one priority is customer satisfaction. Our packer and movers are experts in providing top-notch service to customers looking for the Best Packers and Movers from Bangalore to Hyderabad​​. They will assemble and arrange furniture in your new home and make it enjoyable for you and all your family members.
Sri Vinayaka Packers & movers can be reached at +91 9880011434, or via our website.
Frequently Asked Questions
Sri Vinayaka Packers and movers is the best Best Packers and Movers from Bangalore to Hyderabad​​.
Our professional packers and movers are well aware of all the areas in Hyderabad and are trained to work against the gruelling traffic conditions of Hyderabad to ensure timely pickup and delivery of your belongings.
They are skilled in creating a good relocation plan that works for you, to make your move hassle-free.
Contact us for more information at +919880011434
Indian Banks Association(IBA) has accredited some renowned packers and movers that are eligible according to the scheme formulated by a regulatory authority.
IBA approved companies have a unique registration code that shows their credibility.
Always choose a Packers and movers company that has IBA accreditation for more secure relocation services.
Hiring professional packers and movers can help you feel relaxed and comfortable throughout the shifting process while they do all the hard work for you. Here are some tips to help you choose the best movers, pay attention to these when you approach them for a quote.
They prioritize your family's comfort and make sure every belonging of yours is secure and damage-free during the shift.
They also provide Insurance to your belongings to rectify any damage caused during natural calamities.
Sri Vinayaka is a certified and Best Packers and Movers from Bangalore to Hyderabad​. We take all the necessary precautions to ensure a safe moving experience for your family.
Yes, all our services are insured. We take our customer's belongings seriously and we make sure that your possessions are well protected with a reliable insurance provider.
It depends on the place you are shifting to. We suggest you hire packers and movers as soon as you decide to move. This ensures that moving happens when you are comfortable and that it happens effortlessly. If you are confused about what to do, call us at +91 9880011434. Our customer service executives are happy to help you.