Packers and Movers from Bangalore to Chennai
Best Packers and Movers from Bangalore to Chennai
Top Packers and Movers from Bangalore to Chennai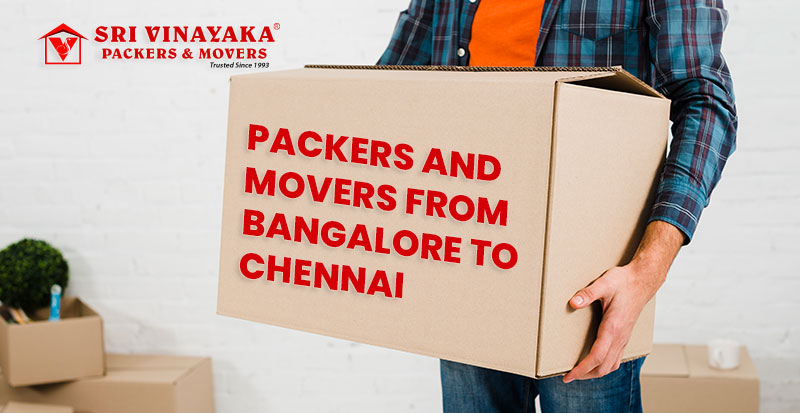 Sri Vinayaka Packers & Movers was founded in 1993 and began the challenge of personally moving your household belongings ever since. We are the best Packers and Movers from Bangalore to Chennai.
It is evident that relocating should be handled by professionals with caution, convenience, and efficiency. We assist our customers with transitioning their household and workspaces from one to their next.
Shifting homes involves a lot of planning and will be instrumental in starting the next stage of your life by ensuring your comfort and ease during the transition.
Why choose us for Packers and Movers from Bangalore to Chennai
No matter why our customers are moving or how much stuff they're taking with them, they can expect the same quality of service from a highly experienced team of the best packers and movers from Bangalore to Chennai. With our dedicated team and professional expertise, we are now proud to call us the best packers and movers in Bangalore India. We also have expertise in services as follows:
Vehicle Transportation and Transit escort services: Do you wish to transport your vehicle to some other place? Is driving long-distance troublesome for you? Then Sri Vinayaka Packers are the right choice for vehicle transportation. We provide transportation services for cars and bikes.
Commercial relocation: Office relocation can be tiresome and challenging. We make it easy for you with our expert team of trained crew.
Storage/warehousing: We offer the best and reliable storage and warehousing services in Bangalore.
Relocation insurance: All our services are door to door insured so that you can have a stress free move.
Cargo services: Sri Vinayaka packers provide a comprehensive logistic service for transporting all kinds of cargo.
Long-distance relocation:  As one of the best Long distance moving companies, we know almost every part of the cities we offer our services in, this helps us do the move efficiently and quickly at the same time.
Hassle-free post-move services: Moving shouldn't feel exhausting as you should be ready to take up new challenges in the new city. Therefore, we will help you with the post-relocation process too by arranging your new place. We help you with unpacking, reassembling furniture, etc. to make you feel at home and help you settle for a normal life.
What makes us the best Packers and Movers from Bangalore to Chennai
Our company provides top quality services that do not drain you financially. We understand that it is as difficult to pick up everything and move to a different place as it is exciting, Our team of packers and movers promise you safety and utmost care for your belongings.
Sri Vinayaka is the best packers and movers from Bangalore to Chennai that also specialize in Official Relocation services. If you have a big move ahead of you, we make it easy by doing all the hard work while you concentrate on your business.
When you rely on a professional moving service, you won't have to have any stress about picking up boxes. Our expert team knows the nuances of Office relocation, From shifting servers and storing office documents to desks and chairs, we plan your office relocation according to your prerequisites.
Before you enter your new office, everything is already there and arranged according to your instructions. This the perks of hiring the best packers and movers from Bangalore to Chennai.
Why you should choose us?
Our core belief is honesty and fairness. We have the best intentions for our employees and Customers.
Above all, We care for your belongings throughout the process of Packing and moving from Bangalore to Chennai.
Value the memories you made with your goods and do your job mindfully.
The team consists of professionals that deal with various aspects of planning, packing and moving and we offer excellent service, all while making it hassle-free for you.
We are a team of the best packers and Movers from Bangalore to Chennai and we offer convenient and flexible scheduling on any day of the week.
Your time is valuable for us and therefore, we will help arrive at the destination on time that we committed to you.
There is no charge for packing and no extra hidden costs.
We will always deliver you the best services with the prices we committed to you.
Our prices are competitive and affordable!
We are flexible to meet any special needs that may arise during your relocation storage services at our warehouse. Just ask us, we will try to accommodate your wishes during your move.
For more information, contact us at +91 9880011434 or visit our website, You can check our informational blog posts for hassle-free storage service in Bangalore and packing tips. Also, click here to know about the best packers and movers from Bangalore to Hyderabad.
Frequently Asked Questions
Hiring professional packers and movers can help you feel relaxed and calm throughout the shifting process while they do all the tough work for you. Here are some tips to help you find the best packers and movers from Bangalore to Chennai.
Find a company that is registered and licensed.
Go through their customer feedback and reviews online.
Talk to the service providers before hiring them.
Check if the company is customer-centric.
Ask around for more details about the company that would help you make the decision.
Be expressive about your requirements and see if they are equipped for the job.
A registered company is considered credible and you can save yourself from fraud, damages and unnecessary costs if you find a registered company for moving.
Moving companies have a license that allows them to transport household things across cities and states. Although you can move some of your belongings in your own vehicle, you may face some issues with transit permits and it is not as practical as it may seem.
You can transport almost anything in the moving vehicles but we suggest our clients to avoid some things, especially during a long-distance move. They are,
Perishables like food and drinks

Personal or invaluable documents

Fragile Items that have a special meaning to you.

Family heirlooms and

Collectables.

Money and valuable jewellery

Medicines that you may need during the move.
If you have a personal request, contact us to help you better.
Sri Vinayaka Packers and movers are the best packers and movers from Bangalore to Chennai, fulfilling all kinds of moving requirements. For more information about our services contact us at +91 9880011434.