Local Shifting in Bangalore
Best packers and movers in bangalore for local shifting
Best Local Shifting in Bangalore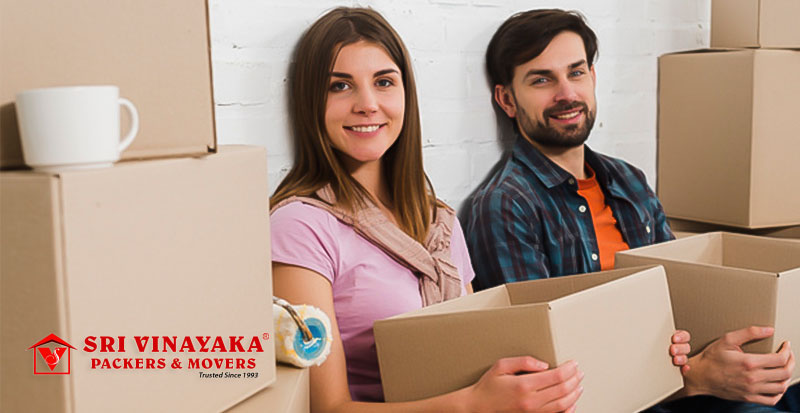 The process of local shifting in Bangalore, whether it is residential or office shifting, can be tedious. Without the assistance of a company like ours, you can find it difficult to pack and move and you also need someone who knows all the nooks and crannies of the city.
Professionally trained crew members who have gained a great deal of experience in the industry help us to serve you effectively.
Vinayaka Packers and movers have been the No.1 choice for many locals, with experience of over 25 years, we know the complications of a Moving process and we are skilled to do it effortlessly, all while making sure you are having the best experience with us.
Best Local Shifting in Bangalore with ease and safety
Local shifting is something we do professionally here at Packers and Movers Bangalore, and when you hire us for local moving in Bangalore, you'll have the chance to make your moving experience as fun as possible with the people you care about. No more stressful rushing like back in the days.
All your possessions are safe and undamaged when we open them at the other end because of special packing techniques and boxing materials.
Throughout this global pandemic situation, we remain committed to providing quality customer service without compromising. We perform daily safety checks and health screenings on all employees before they begin their workday.
In other words, we offer you a safe environment, while you can sit back and guide them through the process according to your preferences.
Value for time
We are ready to provide our services 24/7 despite the fact that most of our competitors are only open during the week.
It's our belief that local shifting in Bangalore does not have to disrupt your work schedule.
It is our team's goal to make things happen when it is convenient for you.
The work we have committed to you will be done on time due to our respect for your time.
Our Promise
All our services including but not limited to Storage and warehousing, Vehicle transportation, Long distance moving, and Cargo services are well insured. Our team takes your moving process seriously and is committed to creating better relocation practices for Local Shifting in Bangalore.
Customer satisfaction is our top priority and we make our best efforts to ensure that.
We are committed to delivering the best services to our customers based on our core values of Trust and Integrity. Most of our clients come to us via referrals from our fantastic past customers, so we know our quality speaks for itself.
Ever since our company was established in 1993, we have made local shifting easy and efficient. For a stress-free moving experience with our well-organized team of professionals, contact us at +91 9880011434, +91 9243460664, or email us at srivinayakapackers05@gmail.com.
We have expertise in Packing and moving services from Bangalore to Chennai and Packing and Moving services from Bangalore to Hyderabad. Get in touch with us to get a quote.
Frequently Asked Questions
The duty of packers and movers is to ensure that you have the best moving experience no matter that distance or the number of your belongings.
They plan the relocation by taking your requirements and execute it on time. Good packers and movers make sure that you and your family enjoy while they take the burden of packing, lifting, loading, unloading, and all the post-move tasks.
We are the best packers and movers in Bangalore. We also provide services like Transportation escorts, vehicle transportation, and storage services.
Sri Vinayaka is the best Packers and movers company based in Bangalore and extending its services to all the major cities in India with an experience of almost three decades.
We provide top-notch services for Local shifting in Bangalore, Long distance shifting, and interstate relocation along with Storage warehousing, Vehicle transportation, Relocation escort services, and Cargo transportation locally and internationally.
Our friendly team of Packers and movers is skilled and experienced with a sense of responsibility towards our clients and their requirements.
In India, the GST rate for Packers and movers and Cargo handling services is 18%
There may be a difference between packing and moving charges in Bangalore ranging from Rs.3,000 to Rs.50,000. For example, moving within Bangalore costs approximately Rs. 5,000 to Rs. 28,000. The cost of movers services includes the costs related to packing and unpacking, manpower required during loading, and the cost of transport. Packing and moving services in Bangalore are particularly expensive compared to the cities cost of living. Nonetheless, we strive to save you approximately Rs. 3000 to 6000 from the other packers and movers rates.
Professional packers and movers will pack all your belongings and get them transported to the new location. In addition to delivering your goods, they will also help you unpack and rearrange your belongings at the destination. Packing and moving multiple items should be handled by a packers and movers company. For example, if you recently relocated to a new apartment that's ready for possession and you're living in a rented apartment, you should find a movers and packers firm that can pack and move all of your household goods. Local shifting is what packers and movers are known for, and they would be happy to help you. Moving companies can handle everything from the dismantling and cleaning process to the packing, loading, transportation, unloading and rearranging of goods during the move. Similarly, if there are few items that you don't want to move or don't think you need them in your new home; you can store such items in a warehousing facility . Some time people leave behind old furniture so that they can give it to a relative or for other purposes. Movers and packers offer storage service that you can avail for storage of household goods and articles.
It might be confusing to calculate the cost of movers and packers. The moving rates of different moving companies differ from others, causing customers to make the wrong decision when hiring movers and packers. Among the factors which affect moving costs are total loading, transportation packing, and unloading costs, which all vary based on the type of vehicle, packing material quality, skills of workers, and brand of the moving company. To select the right packing company as per your budget and requirements, you must know what to look for in a company.