Interstate Packers and Movers in Bangalore
Best Interstate Packers and Movers in Bangalore
Best Local Interstate Packers and Movers in Bengaluru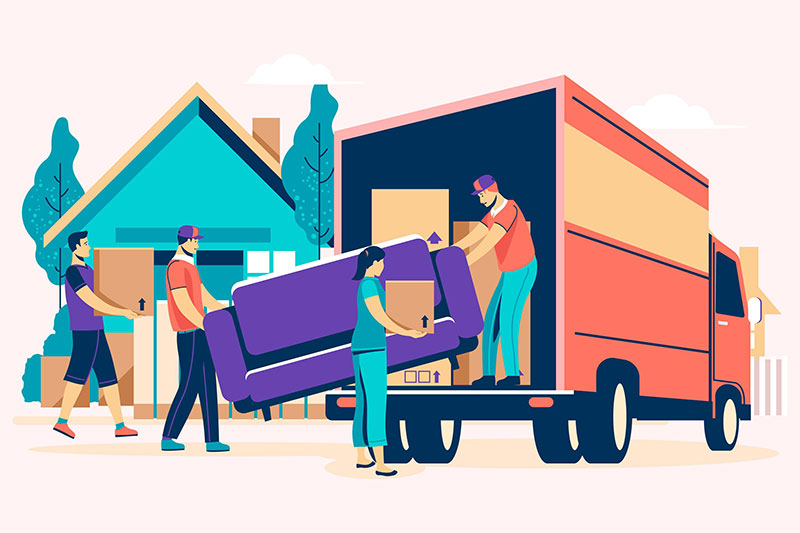 Sri Vinayaka Packers and Movers has over 25 years of experience in interstate packers and movers in Bangalore. We have developed a system that reflects our dedication to quality. We have the resources, expertise, and network to provide a hassle-free relocation service in any part of the country, no matter if you're moving from or to Bangalore. Interstate transportation services offer comprehensive relocation management for large and small resources, such as household goods or corporate goods.
We have the experience and expertise of both labor and cargo drivers to offer interstate moving services in Bangalore to most of the neighboring states. This allows us to provide high-quality interstate relocation services to every customer. We offer interstate moving services in Bangalore to help you get there, no matter where your relocation is taking you.
We are a reliable interstate household goods shipping company that can help you with vehicle transportation. For both our business and household goods, we offer both short-term and long-term storage in Bangalore. Your items will be stored in our warehouse, which will keep them safe for as long as they are needed. We will deliver them to your destination when they are ready.
It can be difficult to move from one state into another due to the change in culture and language. It would mean you'd be leaving behind a lot of memories. Reliable packers and movers can make this process easier, both mentally as well as emotionally. We make shifting easy for everyone, even interstate. You will have a more enjoyable experience and fewer headaches.
Local Interstate Packers and Movers in Bangalore
People often move to cities like Delhi, Noida and Gurgaon because there are better career opportunities. You can always count on Sri Vinayaka Packers, no matter where you're moving to. Our experienced team can pack your belongings quickly and safely to get them to their destination. Our team puts their heart and soul into every step of the relocation process.
To ensure that fragile items are safe during transit, special care is taken when packing them. Apart from household goods, we can also transport motor vehicles to their new destination.
We can transport all types of vehicles and we guarantee that they will arrive in good condition and on time.
Professional Interstate Packers and Movers in Bangalore
Sri Vinayaka Packers and Movers in Bangalore follow a strict process when it comes to moving. We will book an appointment to visit you at your home and take note of the items that must be moved. After you have received a quote, we will book your order. Our team arrives at your home and unpacks all of your belongings.
We then move them to the new location. Once we reach the destination, we pack all the items and then set up the area for you.
Average cost for Interstate Packers and Movers in Bangalore
It can be exciting to move into a new house, but it can also be stressful. The excitement of moving to a new house may fade if you notice damage to expensive heirlooms. A DIY move is popular among many people.
We don't believe it's a good idea. While it can be a good idea, it is not the best. As DIY moving can be dangerous and could cause injury, we do not recommend it to our customers. It is not a good choice for working professionals and people who don't have the time or patience to complete the DIY move.
All things considered, local packers and movers in Bangalore are the best options. It can be costly. You will be charged for loading, transport, unloading, and unpacking. You will be charged extra if you require household storage for a specific period. To save money, you can hire packers or movers but not packing services.
You may be most concerned about the charges of packers and movers for local moves. You might be wondering how much local moving costs packers and movers will charge.
First, it is important to understand that local packers and movers costs depend on how big your home is (how many things you have) as well as the quality of their services. You may notice a difference in the prices depending on the quality of the services provided.
What are the charges for interstate packers and movers in Bangalore?
Moving a one-bedroom (1BHK), local apartment in Bangalore will cost you approximately Rs. 4,205 – 11,005. You can expect to pay Rs. if you pack the goods yourself. 2,870 to 7,470 Local packers and movers in Bangalore will charge around Rs. 6,490 to 19,490 includes a complete packing and moving solution. In most cases, GST fees may be added.
Professional packers and movers charge Rs. Relocation of an office (20 person capacity) can cost anywhere from 19,200 to 45,300. The office shifting fees for a micro-office (6 person) will be between Rs 11,200 and 25,200. It is difficult to predict what charges will apply to large corporate office moves from one location to the next. For large office relocation services in Bangalore, please contact us.